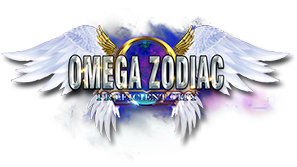 To express our gratitude to the players who have offered great support to Omega Zodiac, the Omega Zodiac Operations Team will start a Omega Zodiac elite player club to provide members with quality services that they have never enjoyed before.
Exclusive privileges elite club members will enjoy
1.One to one communication: They can talk about basically
anything they want to with customer service representatives.
The representatives will try their best to help.
2.More efficient problem solving: Whenever there is a problem
in-game, elite club members will get more efficient help. One
to one customer service representatives will work with the
related departments to help and be there all the way through
the problem.
3.Priority access to Omega Zodiac information: Elite club
members will be the first to get information about game
upgrade and promotion activities.
4.Your ideas and complaints: We will attach great importance
to club members' ideas and complaints about Omega Zodiac,
which will go direct to officers and the development department.
5.Free gifts on holidays: we will send greetings and free gifts
to elite club members on holidays.
How does establishing elite player club work?
We will evaluate all players and decide which are the best qualified players. Those selected will receive an invitation through in-game mail. (Remember to check your email on a regular basis.) Then they will need to follow the instructions in the mail, and befriend the assigned customer service representative on Skype. After we finish some routine work (like asking for character name and so on), they will get a gift pack.
1.Required information: About the in-game character Server: Character name:
2.About you Your real name:
Gender:
Birthday:
Email address:
Precautions
1.Players should be alert so as not to fall victims to frauds. Make sure the invitation mail is from the actual Omega Zodiac before you do anything. Omega Zodiac staff won't ask players for passwords, money or other improper things. (But we will need a screenshot and the title of the invitation mail as proof)
2.The elite club members will communicate with Omega Zodiac representatives through skype.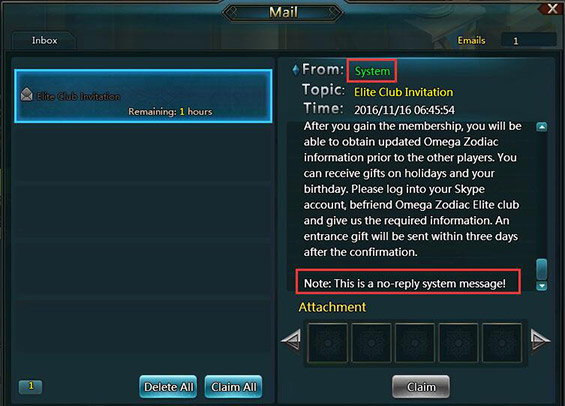 Omega Zodiac elite player club exclusive gift
Fashion:Elegant Plume(Permanent)*1
How:Pass the Skype validation for your Omega Zodiac player identity and you shall have the gift within 3 workdays.